Archipelago Labs is launching its first incubation program entitled ALAB this coming May 22 2023. The program aims to empower aspiring Filipino technology entrepreneurs through a structured program geared towards jump starting their ideas and turning these into startup ventures.

We are on the lookout for entrepreneurs or entrepreneurs-to-be with a compelling technology startup idea, prototype, or team tackling the intersection of Web 2&3, consumer applications, infrastructure & tools, finance, and digital experiences. 

Applications are now open for the May 2023 cohort. Deadline for applications is on April 15, 2023.

PROGRAM DESIGN

The program is designed for young entrepreneurs, experienced professionals, and second time founders that are looking to build and scale technology startups with the help of an incubator. The program is a hybrid of online and offline sessions that will span across 12 weeks and will provide participants with:

Early stage startup fundamentals 

Collaborative cohort sessions

Mentor and expert advisory sessions

Open office sessions

Networking opportunities with other startup founders, operators, and investors
Fundraising through A-Labs and its network of investors via a culminating Demo Day 
Take note! Our support does not end with the program and we are looking to support incubated ventures as they progress from seed to scale.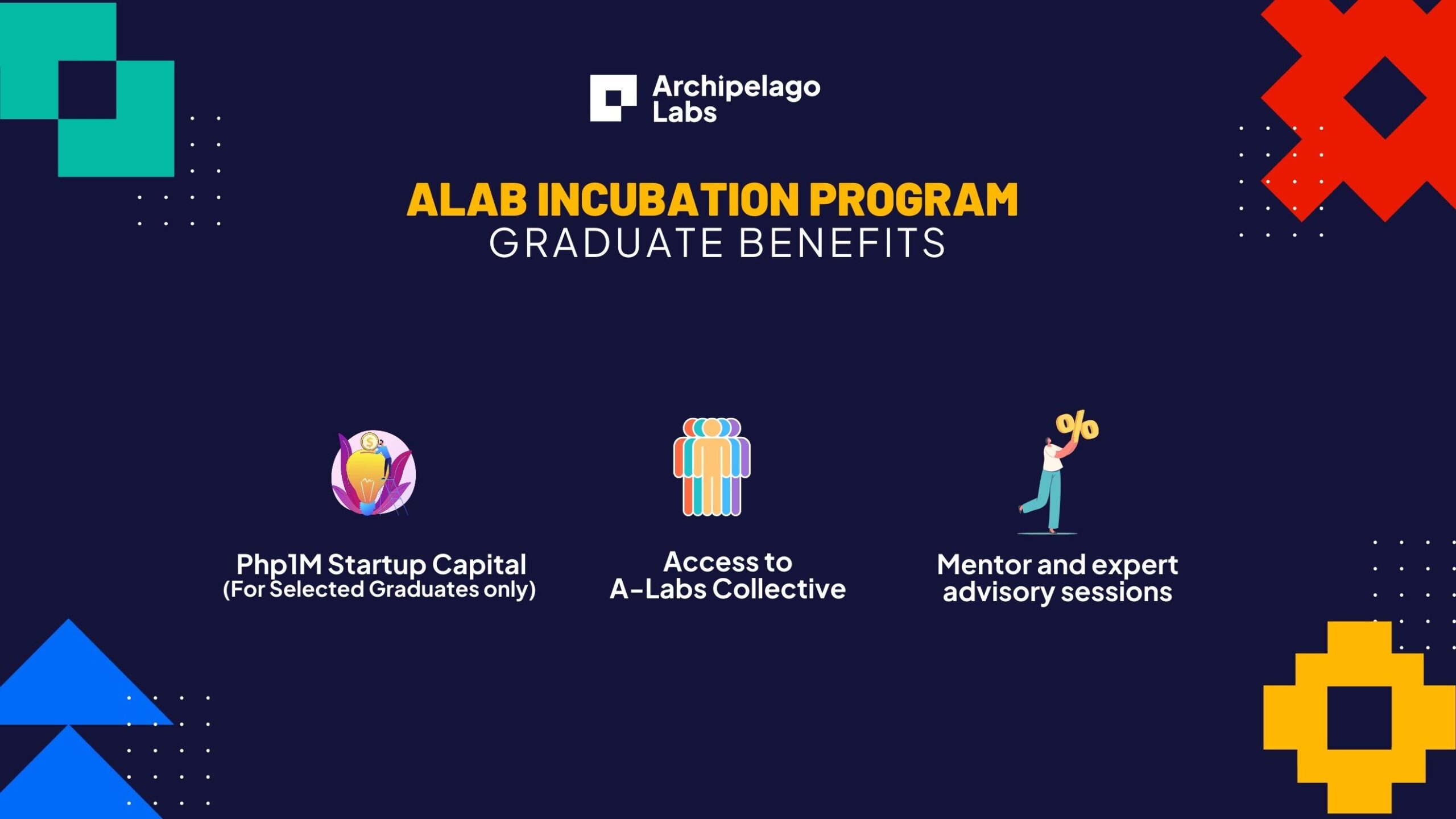 PROGRAM BENEFITS
Selected program graduates will receive startup capital of up to Php1,000,000

Graduates will be part of the A-Labs Collective – A-Labs' network of tech startup entrepreneurs, operators, and investors

Each participant will receive perks and benefits from Archipelago Labs' partners including startup tools, cloud services, and more-
ELIGIBILITY
Filipino Founder/Team 

Idea to pre-product, pre-revenue stages

May or may not be incorporated 

Have not raised external funds

Maximum of three (3) participants from each startup

Promising founders or teams with business acuity and a knack for technology

The program is open to all technology ideas, startups, and business models. We welcome entrepreneurs (or entrepreneurs-to-be) from all walks of life. If you are uncertain about your eligibility or have additional questions about the program, feel free to reach out to us through hello@archipelagolabs.xyz

Apply thru (Don't be shy!): https://archipelagolabs.xyz/hear-your-idea/